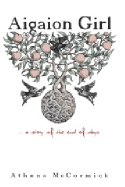 AIGAION GIRL ...A STORY OF THE END OF DAYS

All Apple has ever wanted is to be left alone - but having twelve inch horns sticking out of her head hasn't exactly made that easy. The closest thing she has to a social life involves a constant crowd of on-lookers and the occasional fight with an angry mob. And to make matters worse, she's started to notice the signs; the world is about to end...

Now she and her best frienemy, the angel Camael, are torn between doing the right thing and hiding under a rock until it's all over.

Meanwhile, Apple is being bedevilled on all sides, by her angel friend, her human mother, her demon father and Moloch, a general of Hell's Army who wants to recruit her for his own unknown reasons.

Click here to get your copy of Aigaion Girl now.